This past weekend I had the pleasure of attending Henry's bi-annual "Photo and Video Imaging Expo" at the International Centre in Mississauga. Open to the general public and for enthusiasts and professionals alike, it's more or less a glorified marketing expo that gives people a chance to get their hands on new gear, watch a few workshop introductions and enjoy some sales. This year we took in a few tutorial workshops on Photoshop Lightroom and flash photography. My primary reason for attending, however, was to have an opportunity to photograph some animals I don't often get an opportunity to capture.  In particular, parrots, lemurs, and a lion cub.
Unfortunately, the setup for photographing most of the animals was actually quite poor (great lighting, terrible angles) so I didn't bother trying to get any artistic shots of the lion cub, porcupine, baby emu, rabbit or ring-tailed lemur provided to the show by private zoo and outreach centre, "Hands on Exotics". I did however manage to snag, with a small amount of stealth, a lovely shot of this long eared cutie, a baby red kangaroo.  The rest of my time was spent capturing two gorgeous birds.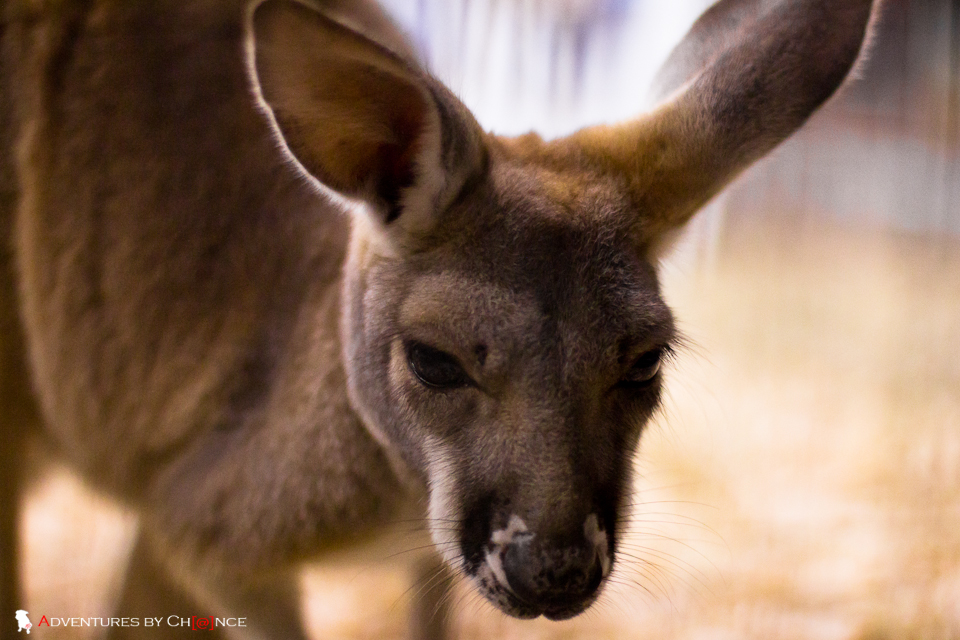 Though most of my days are now spent practicing photography on dogs, there's a special place in my heart for birds, particularly parrots with their keen minds and breathtaking plumage. When I was growing up in the Caribbean, my grandparents kept parrots (yellow-crowned Amazons). Unfortunately, though perhaps unsurprisingly, there is a very troubling history of illegal smuggling of parrots (and other animals), often from Venezuela, into Trinidad.  My grandparents don't endorse this behaviour and are fairly critical of the way many Trinidadians treated (and continue to treat) wildlife as a whole.
For the birds in my grandparents' care, it was a good life… they mostly hung out in the mango and guava trees on their property. The last one they owned arrived on their doorstep (well, their front gate) one day and simply wouldn't leave. He was the most sociable. Whenever I'd visit, he'd slide down the ropes of the hammock, sit on my shoulder, and play with my hair.
Given the number of parrots that are sold in pet shops in North America, like most pets there are many abandoned to shelters and foster care programs, especially when people realize the kind of commitment required to maintain them and their propensity for making noise. I looked into rescuing one a few years ago (before Chance came home). Sean…of all people…thinks a parrot would be TOO LOUD an addition for our house. (I am not sure that Sean has met Sean. :P) One day. One day… !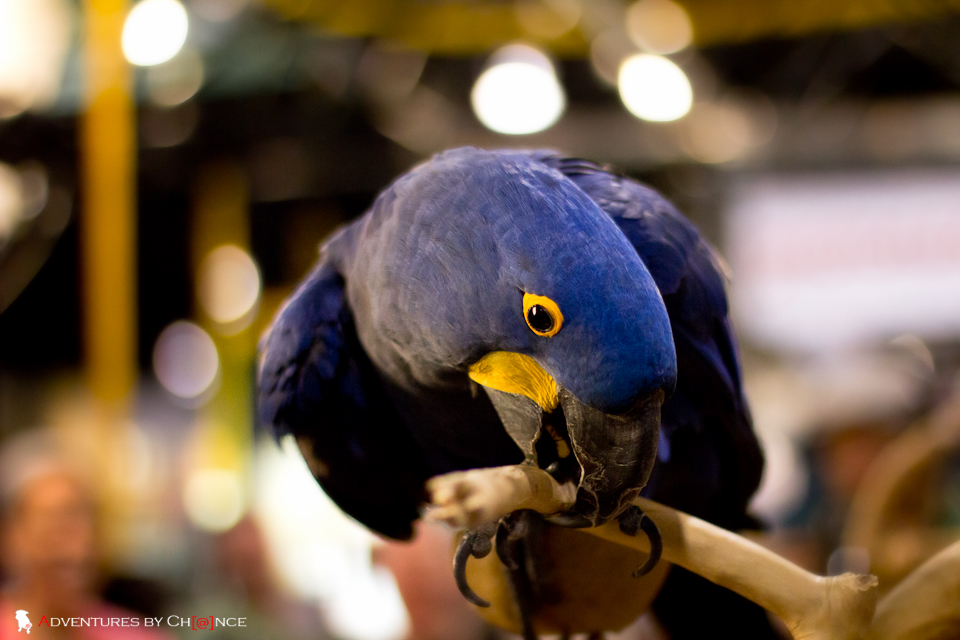 In this series of photos, shot at Henry's Exposure Show, the parrots arrived as part of the aforementioned traveling outreach team/private zoo collection. The white one is a cockatoo – I believe the "Salmon-crested" or "Moluccan" cockatoo, indigenous to Indonesia. According to the International Union for the Conservation of Nature (IUCN) it is classified as vulnerable. The blue one, appropriately, albeit with little creativity, named "Blue" by its handlers, is a Hyacinth Macaw. Endemic to Eastern/Central South America, it is the largest of the flying parrots. Due to threats to its habitat and its popularity as a pet, its status has now reached endangered (via IUCN).
I have very mixed feelings about animals being used in environments such as this (especially when I witnessed adults pulling on their tails) because it places little emphasis on actual outreach and education and makes spectacle of the animals in question. While I don't fault the outreach team for this per se, I'd prefer opportunities like this to be used as moments for teaching the public, rather than simply treating animals as spectacles (or worse, as fodder in a glorified petting zoo). Alternatively, I'd prefer to see other animals, species more accustomed to human interaction such as dogs, used for this purpose.
For that reason, I'd like use the opportunity I had to photograph these birds to draw attention to the plight of endangered parrots worldwide.
More parrot photos can be found in the bird gallery, here.