We are monthly Barkbox subscribers and a couple of months ago we received a smoky shin bone from Barkworthies in our monthly box. This isn't our first Barkworthies product – we've actually received several different treats in our boxes over the past year or so, including the smoky shin, a pipe bone (stuffed), a twisted pretzel, and their famous "bully sticks" (beef pizzles). If you've owned a bulldog, you know bullies go crazy for this stuff and Chance is no exception. Made in the USA, sourced from the US, South America, and Australia from free-range, grass-fed cattle, Barkworthies gets a 4 out of 5 bone rating in our house!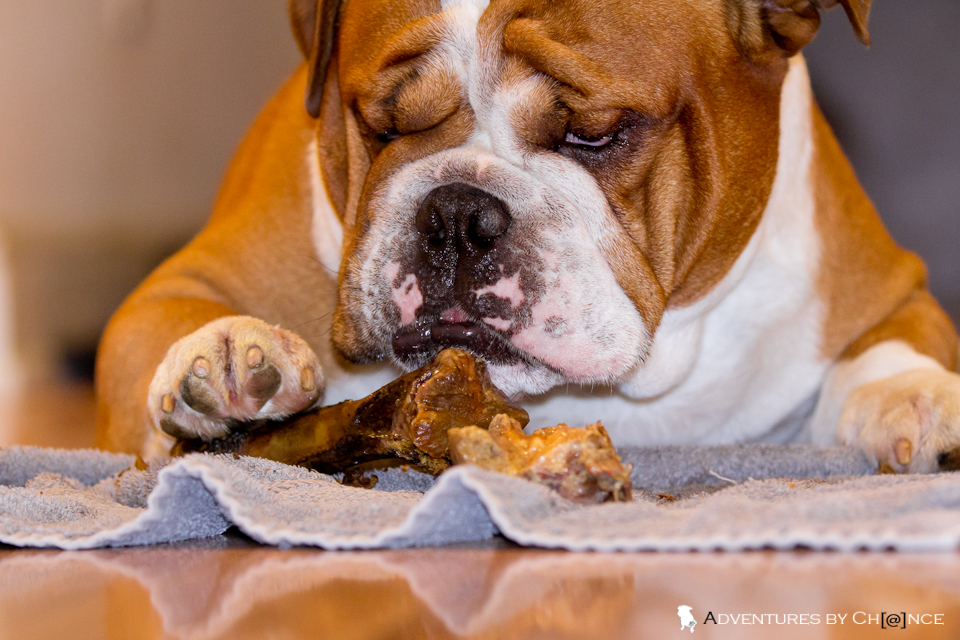 This month we were happy to see that Barkbox included "Bully Flakes" from Barkworthies, a shredded, flaky alternative to bully sticks. One of the unfortunate side effects of pizzles is that they present a potential choking hazard, especially for bulldogs who tend to wolf down their food. The flakes eliminate this problem by being small, easy to eat and easy to digest pieces that can be added to regular food as a tasty treat. Bulldogs aren't really finicky eaters, but Chance does not complain when his humans give him a little bonus. :P
Overall, we have enjoyed many of the Barkworthies products, but like anything given to a dog, there are necessary caveats. Pizzles and cooked bones are both potentially dangerous to your dog.  Many bulldog owners stay far away from pizzles, while others endorse them heartily.  While we have not had any trouble with pizzle type chews, we have discontinued their consumption and are very happy to have a bully flake alternative that allows Chance to enjoy their taste without unnecessary trouble.  Overall, if you opt to give your dog either bully sticks or cooked bones, we suggest that you DO NOT allow them to be consumed without supervision – and we mean VERY careful supervision. The smoked bone you see in the pictures here went over very well, but we took it away as soon as it was cracked in half. Cooked bones splinter and I am not convinced that the slow  roast alleviates this danger.
Go check out Barkworthies.  Antler chews are also a great favourite of heavy chewers and the chews from Barkworthies are naturally shed from Rocky Mountain elk. :)