The boys say THANK YOU!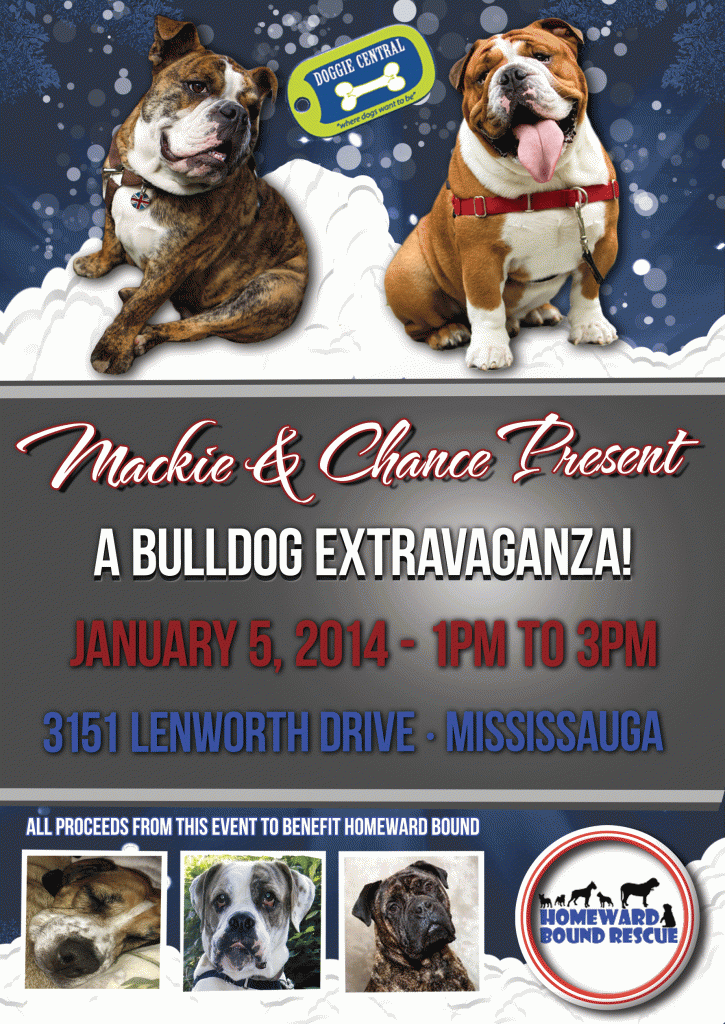 Words Cannot Express enough. . .
On January 5, 2014, bulldog buddies Mackie and Chance hosted a birthday party and a fundraiser. Despite the fact that this was just after the holidays AND the fact that the weatherman called for an intense snow storm, the turnout was better than we could have imagined! As four passionate bulldog owners who have never planned anything at this scale, we were thrilled to host over 40 dogs and over 60 people. In under two hours, thanks to very generous donors, pizza and drink sales, auction bids and raffle ticket purchases, we surpassed our fundraising goal, generating just under $2200 AND a huge bin of food, treats, and toys for Homeward Bound Rescue!
We'd like to thank all of the incredible individuals and businesses (local, country-wide, and international) who helped us via their donations of time, money, products or services. We could not have done this without you!
A very special thanks to the following:
Doggie Central (our amazing venue) and our coordinators (Leslie and Ashleigh)
Royal York Animal Hospital
Bloormill Veterinary Hospital
Barkbox
Mootugs
Opie and Dixie
Pet Bling
CJ Skateboard Park
California Sandwiches – Queensway (Etobicoke)
Pushpa's Aesthetics – Bloor (Etobicoke)
Clip Hair Salon – Oakville Place
Valerie Branco
Michelle Branco
Michael and Becki Bertucci
Idrees and Hana Nawabi
Florence McErlain
Michael Glinoga
Bulldog jam!
Reviews are in!
This was lots of fun. Thanks for planning a great event!
Lots of fun thank you!!!! Winston had a blast!!!!!
Tucker is really enjoying the bone from his bark box. Great prizes :)
Gordito had a blast!!
Just 7mos old, Vic had a great time at this first big social event of her young life. At dinner last evening, said that she liked all the girls she met and thought the boys were hot!
Fantastic meet up! Great turn out for a great cause!
Don't forget!
You can still help support our cause by purchasing from Mootugs throughout the month of January! Mootugs will be donating 40% of proceeds to Homeward Bound Rescue. If you miss this month, don't worry, Mootugs picks a new rescue every month! :) For details, check out our previous Mootugs post, HERE.
Update!
We made the local paper! Check out photos of the event courtesy of Nicole McGrattan of Snapd South Mississauga.
---