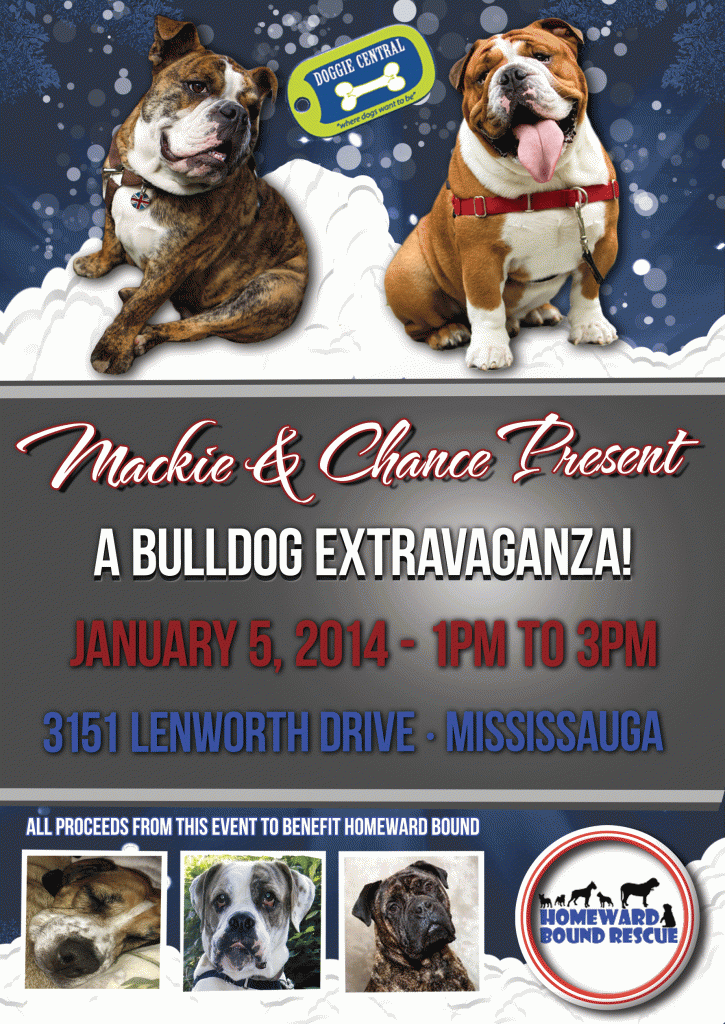 A BULLDOG EXTRAVAGANZA!
January 5, 2014
1:00p.m.- 3:00p.m.
Doggie Central – 3151 Lenworth Drive, Mississauga
Mackie and Chance are throwing a party to celebrate their birthdays and both of them want to celebrate in style with you!
In lieu of gifts, the boys have made it a goal to raise funds for Homeward Bound Rescue, a fantastic foster and rescue organization that specializes in short-faced cuties like themselves.
The fundraiser will be held indoors at Doggie Central in Mississauga. There will be plenty of place to run around leash free or to chill out in the corner, and there is a fenced area out back for any bathroom breaks. If you want to try your paw at the tunnels or the ramp, agility equipment will also be available.
Please bring your humans and tell them to come ready to eat at the pizza and bake sale! We are putting together a ton of raffle prizes (for both dogs and people) so be sure to come down to get in on the action!
Admission is FREE but we ask that everyone bring a donation for a chance at a door prize.
Any questions/concerns please contact the organizers.
RSVP @ here for your loot bag!
---
Getting there
Please click on icon for directions from your location.

---
Q & A
Why should I RSVP?
We will be selling food, drinks, coffee, and providing loot bags! Please RSVP so that we can provide enough for everyone!
Is there parking available?
Yes. There are a number of spots on site as well as street parking available. Parking is free.
Does my dog require proof of vaccination for entry?
We recognize that vaccinations are a touchy subject for many (pet) parents. We do respectfully ask that your dogs are up-to-date on their vaccinations OR have been screened via titer tests for the health and well being of all of our dogs.
My dog doesn't get along with other dogs. Can I come without a dog?
We welcome anyone who would like to donate, participate in our raffle/auction and enjoy our bake sale.
Are you only accepting cash donations?
No. Foster groups are always looking for toys, leashes, beds, blankets, towels, food…and anything else you think will make a foster dog's life comfortable. Feel free to bring new or gently used things as your donation for door entry. Food items should be new/unopened.
I cannot make it to the event. Is there any way I can still participate?
You can contact us here or you can contact Homeward Bound Rescue directly to donate, volunteer, or foster.
Whose birthday is it, anyway?!
Chance turned 3 on December 18. Mackie turns 1 on January 3!
Sponsors and Prizes
We have been overwhelmed by the generosity of our sponsors thus far. Full details are coming soon, but here are some of the fantastic organizations sponsoring prizes for this event:
CJ Graphics
California Sandwiches – Queensway
Our thanks goes out to everyone involved, HERE!