The dog days of summer are almost upon us and for most dogs that means swimming, splashing in puddles, and getting muddy. Inevitably, this also means more baths and/or tracking dirty water into the house.  While I am not one to take on puddles (unlike my good friend Lancelot), I do enjoy swimming in the lake and using my condo's splash pad to cool my balls. This results in one soggy, but happy, bullpup and at least 3 standard towels and a hair dryer to get me partially dry. (Who would guess that a short-haired, supposedly inactive, breed would soak up that much water?!)
Enter the microfiber towel from Drypet.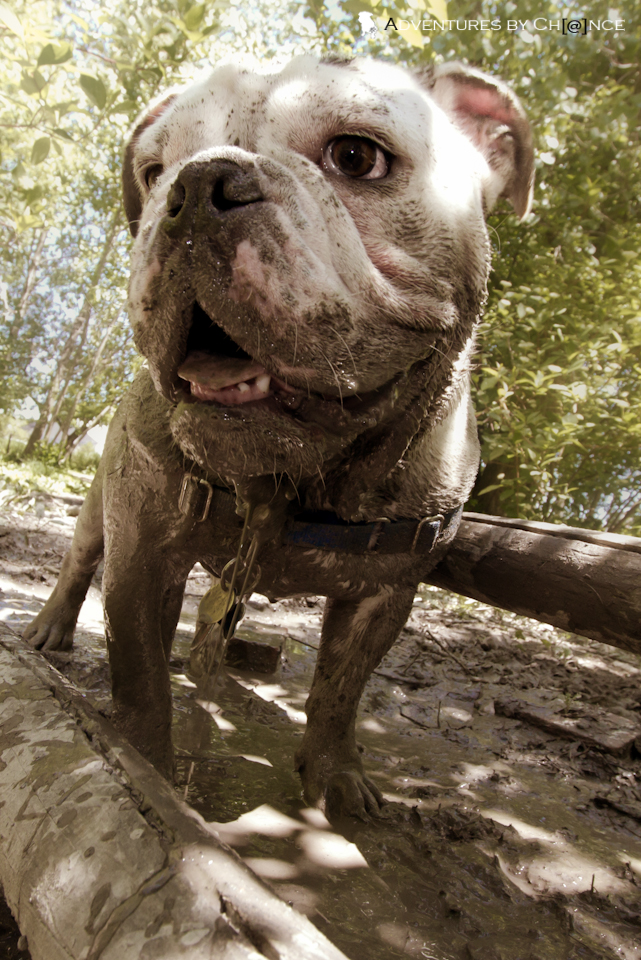 We first learned about this towel from our friends at Leash & Paws who co-sponsored a towel giveaway with Drypet themselves. In the interest of full disclosure, I was lucky enough to win my first Drypet towel but my humans plan to pick up a few more – both for me and for my lady human's waist-length hair which typically takes HOURS to air dry, even when left overnight.  She tested the towel out on herself (don't worry, it was clean) and was very happy to report that it significantly cut down on drying time for her as well. Oh, small miracles! On myself, it cut drying time in at least half, and resulted in less shed hair and a lovely smooth coat.  (You don't have to rub vigorously as the water absorbs easily).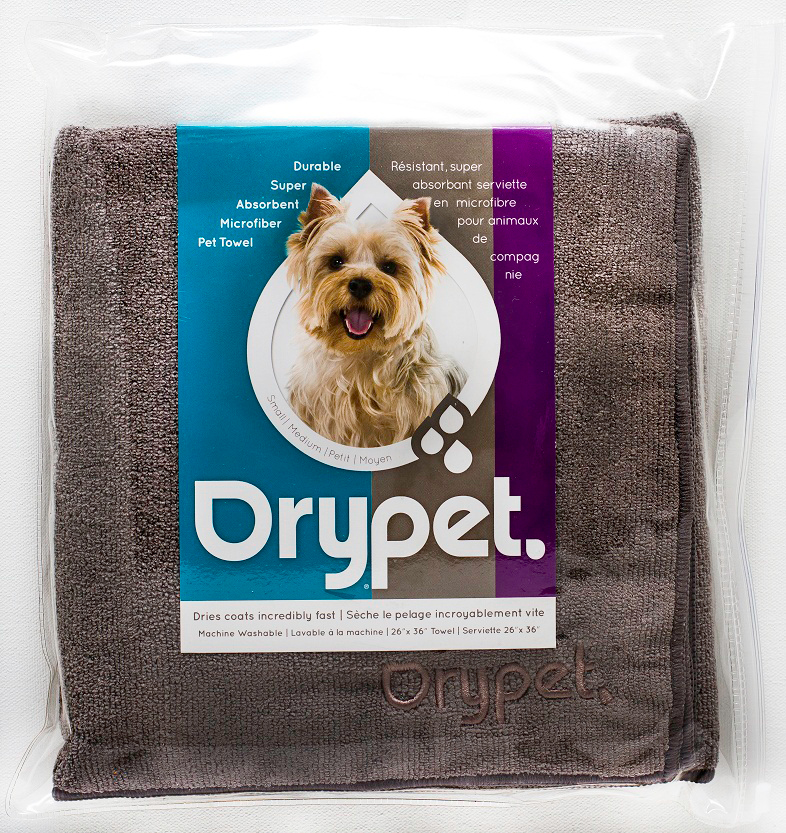 The towel, which is very thin and folds flatter than a standard bath towel, comes in two sizes:
| | |
| --- | --- |
| small/medium (26″x36″) |  $12.99CAD |
| medium/large (30″x44″) |  $19.99CAD |
My beefy bulldog body uses the small/medium. The same size works well for my buddy Bear – a Pomeranian a quarter of my size but with 10x more fur. Admittedly, he swims in his towel a bit but my people assure me it's super cute.
The towel is machine washable and dryer tested, and, due to its compact form, is perfect for tossing into the car/adventure bag "just in case". It also doesn't get heavy like standard bath towels, even when it's full of water.
It is available directly through Drypet (with a shipping cost of $10CAD) or from several retailers in the Greater Toronto Area, including Global Pet Foods, Superfetch, Pawsway and Leash & Paws.
Pick one up and make your muddy adventures a little less trying for your humans. ;)