You probably already know that Mootugs is one of the FANTASTIC sponsors of the Bulldog Extravaganza. But wait…there's more! :)
Mootugs is one of those wonderful ideas that, well, really just tugs on the heart. They are a great tug toy made from upcycled rubber tubes which have been collected from milking machines, cleaned, and sterilized.  In addition to keeping excess waste out of landfills, while simultaneously providing a fun, interactive activity for humans and their dogs, Mootugs also donates 40% of their monthly proceeds to rescues in North America! For all of their efforts, Mootugs has recently been heralded by Modern Dog, Dog-Milk, Fab.com, and has brought home the award for Best Pet Toy from Natural Child's Eco Excellence Awards.
Because we've been in conversation with Mootugs for the past month, we are happy to announce that they have offered to lend continued support to the foster group we elected to sponsor with our party!  During the month of January, 40% of the proceeds from the sale of each Mootug toy will be donated to Homeward Bound, their first Canadian Rescue of the Month!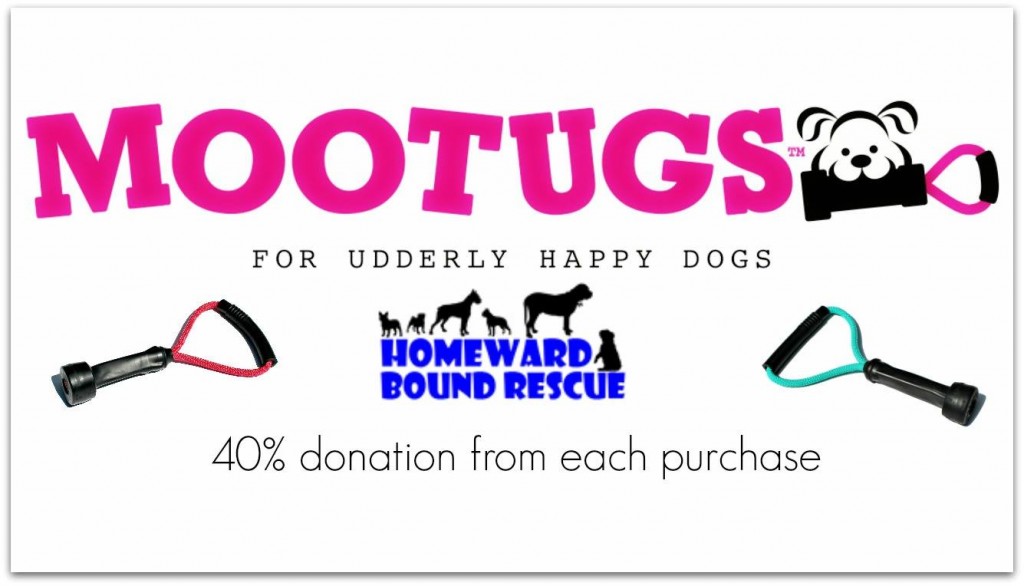 Better still, Mootugs is offering all of our friends at the Bulldog Extravaganza (and everyone else who wants to lend their support) the chance to save a little bit of cash while gifting your doggy pal a new toy!
Use the coupon code 'CHANCEBUCKS' for 15% off!
(Offer valid January 1, 2014 – January 31, 2014).
Click HERE to buy a Mootug today!
---
Disclaimer
Chance's own Mootug toy was fully purchased by us, several months ago. We were very pleased with its durability, impressed by their commitment to the environment, and by their commitment to rescues, and thus later reached out to them for support as an event sponsor.